Hydraulic Press Brake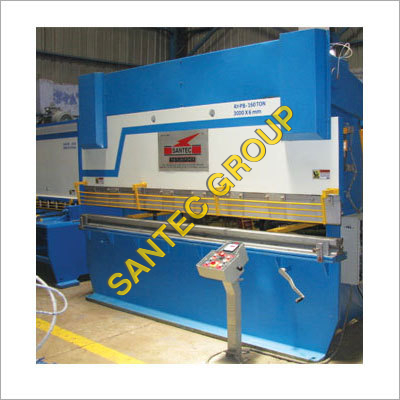 Hydraulic Press Brake
Product Description
To maintain high standards, we manufacture and supply premium quality Hydraulic Press Brakes. These brakes are used for bending different kinds of sheets into the desired angle; the sheet can be made up of mild steel, stainless steel, copper and aluminium. Offered machine is easy to operate, requires almost no maintenance and comes up with a whole year's warranty of the parts installed in it. Moreover, Hydraulic Press Brakes are designed to perform consistently and accurately through out life.
Application:
Santec Hydraulic Press Brakes are primarily used for bend different kind of sheets into the desired angle. These machines are specially applicable for:
Aluminum
Mild Steel
Stainless Steel
Copper.
Salient Features:
Low initial cost
Low tooling cost
Easy & Quick setting
Enormous versatility
Accurate repetition & bending
User friendly
Easy maintenance
Standard spares, hence easy availability.
Structure:
The all-steel-structure of SANTEC Press Brakes consist of side frames, ram, I-Beam type table and pair of levers manufactured from ultrasonically tested steel plates.
All sections are designed to give minimum deflections and maximum rigidity as per international standards.
Pair of hydraulic cylinders are synchronized by a heavy duty torque tube welded to the levers. This offers absolute parallelism between them and table working surfaces.
Power Pack Unit:
The low noise Hydraulic system is designed as per international standards and assembled with internationally reputed make components.
Valves are mounted on a specially designed compact manifold block minimizing pipings and chances of leakages. The large sized oil reservoir provides adequate cooling.
Imported sealing kit prevents scratching of bore in case of seal failure and backup seal offers additional sealing enabling to use machine for sometime at a little pressure drop while awaiting seal replacement, thus avoiding downtime.
Other Important Features:
Repetitive accuracy is with in + 0.04 mm
International Quality hydraulic valves rated at 310 bar but working pressure is less than 160bar, this ensure trouble free operation.
Adjustable five piece guides, provided with special non metallic liners for long life.
Quick adjustable stroke length.
Front operated back gauge with micro setting arrangement
Raw tilting arrangements to maintain bending accuracy over a period.
Moving work station with on / off buttons, selector switches foe inch, single cycle & auto cycle & emergency stop buttons for easy operation & better safety.
Rear Cylinder design using mechanical advantage through lever, reduces the cylinder size which allows to use medium pressure hydraulic component & also improves stroke accuracy.
Fast approach & fast return speed for reducing cycle time, slow pressing speed for better stroke control & bend accuracy.
Standard Accessories:
Main Drive Motor
Electric Control Panel with selection of Auto,'INCH' & Single Cycle Auto mode operation
Movable work station with pair of foot switch
Pair of lifting links
Pair of Sheet support
Fine stroke adjustment rod with limit switch
Manual back gauge with micro setting
One suitable five way Die & Punch of EN - 9
Centralised lubrication system with flow control valve for proper lubrication
RAM tilting arrangement.
Optional Accessories:
N.C. Operated Stroke control
N.C. Operated back gauge & stroke control
Sliding sheet support with swing away stoppers
Hardened tools & special toolings Anti-deflection unit
Hydraulic tool clamping
Motorised back gauge with DRO
Anti Deflection Unit
Multiple depth setting arrangement
First fill of hydraulic oil.
Technical Specifications :
Models

Tonnage (Tons)

Table Length (mm)

Bending Capacity (Approx)

Table Length (mm)

Clear Pass (mm)

Ram Stroke (mm)

Open Height (mm)

Throat Depth (mm)

App/Pressing/Return (mm/sec)

Power H.P.

Packing Dimension (L x W x H) mm

Weight (kg)

S.S.

M.S.

SPB 215

20

1500

1.6x2000

2x1250

150

1060

100

250

100

35-9-35

2

1700x1050x1900

1500

SPB 320

30

2000

2x2000

3x1250

150

1550

100

250

200

30-7-30

3

2200x1150x1900

2500

SPB 425

40

2500

2x2500

3x1500

190

1050

100

250

200

40-8-40

3

2700x1150x1900

3000

SPB 515

50

1500

4x1500

5x1500

190

1050

100

250

200

35-7-35

5

1700x1050x1900

2500

SPB 520

50

2000

3x2000

4x1500

190

1550

100

250

200

35-7-35

5

2200x1050x1900

3200

SPB 525

50

2500

2.5x2500

3x2000

190

2055

100

250

200

35-7-35

5

2700x1050x1900

3500

SPB 625

65

2500

3x2500

4x2000

190

2055

150

330

200

30-5-30

5

2700x1200x2000

3700

SPB 630

65

3000

2.5x3000

3x2500

190

2540

150

330

200

30-5-30

5

3350x1200x2000

4300

SPB 825

80

2500

4x2500

5x2000

190

2055

150

330

200

38-6-45

7.5

2700x1550x2300

4500

SPB 850

80

3000

3x3000

4x2500

190

2540

150

330

200

38-6-45

7.5

3350x1550x2300

5000

SPB 1025

100

2500

5x2500

6x2000

190

2055

150

330

200

38-6-45

7.5

4250x1650x1300

5400

SPB 1030

100

3000

4x3000

5x2500

190

2540

150

330

200

38-6-45

7.5

750x1650x2500

6200

SPB 1040

100

4000

3x4000

4x3000

190

3250

150

330

200

38-6-45

7.5

3350x1650x2500

7000

SPB 1225

125

2500

6x2500

8x2000

250

2055

150

350

300

38-5-40

10

4200x1650x2500

6500

SPB 1230

125

3000

5x3000

6x2500

250

2540

150

350

300

38-5-40

10

2750x1800x2600

7000

SPB 1240

125

4000

4x4000

5x3000

250

3250

150

350

300

38-5-40

10

3350x1800x2600

8900

SPB 1625

160

2500

8x2500

10x2000

230

2055

150

350

300

35-6-40

15

4350x2050x2750

8900

SPB 1630

160

3000

6x3000

8x2500

230

2540

150

350

300

35-6-40

15

2850x2050x2750

8800

SPB 1640

160

4000

5x4000

6x3000

230

3100

150

350

300

35-6-40

15

3350x2050x2750

9800

SPB 2025

200

2500

10x2500

12x2000

230

2055

200

400

300

35-7-35

20

4350x2050x2750

9500

SPB 2030

200

3000

8x3000

10x2500

230

2540

200

400

300

35-7-35

20

3350x2100x2800

10500

SPB 2040

200

4000

6x4000

8x2500

230

3100

200

400

300

35-7-35

20

4350x2050x2750

12500

SPB 2530

250

3000

10x3000

6x3000

300

2540

200

400

300

35-6-40

25

3350x2100x2800

12000

SPB 2540

250

4000

8x4000

10x3000

300

3100

200

400

300

35-6-40

25

4350x2100x2800

13500

SPB 3030

300

3000

12x3000

15x2500

300

2540

200

400

300

30-6-35

30

3350x2150x2900

12000

SPB 3040

300

4000

10x4000

12x3000

300

3100

200

400

300

30-6-35

30

4350x2150x2900

15000

SPB 4030

400

3000

16x3000

20x2500

300

2540

250

500

250

30-5-35

40

3300x2200x3000

18000

SPB 4040

400

3000

12x4000

16x3000

300

3100

250

500

350

30-5-35

40

4350x2200x3000

19500
Trade Information
Cash Advance (CA), Cash in Advance (CID), Cheque

1 Per Month
2 Months

Asia, Australia, Central America, North America, South America, Eastern Europe, Western Europe, Middle East, Africa